Isabel Silva - Associate in Training

Luís Nunes - Assistente de Pedro Santos - Associate

Paulo Correia - Associate in Training
Languages Spoken
Catalan
English
French
Portuguese
Spanish
____________________________________________________________________

ESTAMOS A RECRUTAR 3 COMERCIAIS (m/f):

Nas Zonas do Entroncamento, V.N. Barquinha, Tomar, Golegã, Riachos, Chamusca, Constância, Abrantes, Tramagal.

VENHA FAZER PARTE DA NOSSA E
- Em 2011 a
RE

/

MAX
voltou
a ser eleita a Melhor Empresa para Trabalhar
em Portugal pela Revista Exame e Heidrick & Struggles pelo 2º ano consecutivo.
- Pagamos as mais Altas Comissões
- Empresa Líder de Mercado em Portugal e no Mundo
- Formação especializada e acreditada pelo IQF
- Possibilidade de integrar equipa profissional e dinâmica
Faça parte desta Nova Equipa de Sucesso:Ligue 249 729 190 / 96 766 44 64 ou envie CV para

rumo@remax.pt
……………………………………………………………………………………………………………………………………………
EM PORTUGAL, NINGUÉM VENDE MAIS IMÓVEIS QUE A RE

/

MAX!
---
See more of the description
---
……………………………………………………………………………………………………………………………………………
Loja N.º 1 na Zona Centro em temos de Facturação. Fomos a RE

/

MAX que mais casas vendeu na zona Centro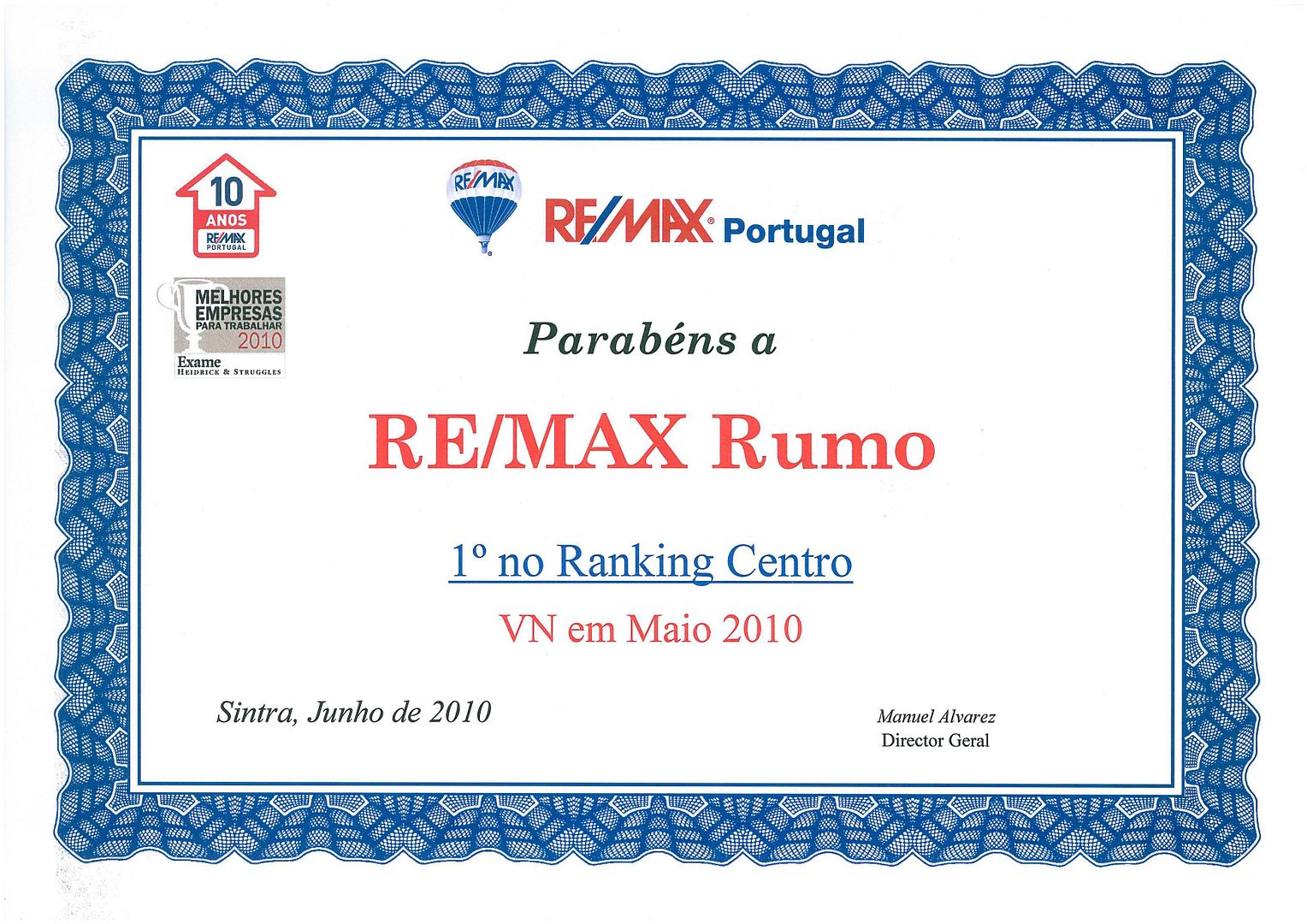 Fomos considerados a RE

/

MAX mais produtiva no mês de Abril e Maio 2010.
Quando decidir comprar ou vender a sua casa, opte por quem apresente resultados.
Venha à

RE

/

MAX

Rumo, no

ENTRONCAMENTO

e encontre a sua nova casa.
Se pretende vender o seu imóvel, visite-nos e venha descobrir porque fomos a agência n.º 1.
AGORA JÁ NÃO PRECISA DE ESPERAR PELA VENDA DO SEU IMÓVEL PARA PODER MUDAR DE CASA.
QUER SABER MAIS? Informe-se junto de nós.
HORÁRIO: 9H30 - 19H30 - Segunda a Sábado
Estamos Abertos Durante a Hora de Almoço.
Our Recently Sold Properties
Our Recently Rented Properties
Our Recently Listed Properties